A few things to be aware of before you shop:
+Prices include shipping withing the US ONLY. If you live overseas, or in Canada or Mexico, I will need to recalculate shipping costs.
+I know my photos sometimes don't show the best detail, so if you'd like additional photos for any reason, feel free to ask.
+I have two cats. Keep this in mind if you have allergies.
+All pieces that have been previously worn will be cleaned before sending them out.
+All damage I am aware of has been noted in the item's description.
+Prices are negotiable! Feel free to haggle.
+I am open to trades, though I prefir cash right now.
+Item goes to first person to leave their paypal address.
+Combined shipping available

My feedback is located here: http://community.livejournal.com/eglfeedback/668683.html

Happy shopping!





Angelic Pretty "Lace Cover" Cutsew - $80 shipped
http://hellolace.net/wardrobe/angelic-pretty/type/cutsew-and-knit/item/67/
Bust: 33" Max
Waist: 29"

Only tried on by me, purchased from Closet Child in Japan. Barely used condition. Very cute and elegant cutsew, just not very flattering on me!





Bodyline jacket - 30$ shipped
Bust: 35" Max
Waist: 30" Max *no shirring*

Jacket comes with a large pink detachable bow of the same dot fabric as the trim. Bow is in storage and not pictured in this photograph. I am the original owner, and I only tried it on. I will iron and steam this piece before it is sent out. Wrinkles in the photograph are from storage.






Bodyline High Waisted Rose skirt - 30$ shipped
Waist: 33" Max *shirring*
Waist ties are not detatchable. Worn once and has been cleaned.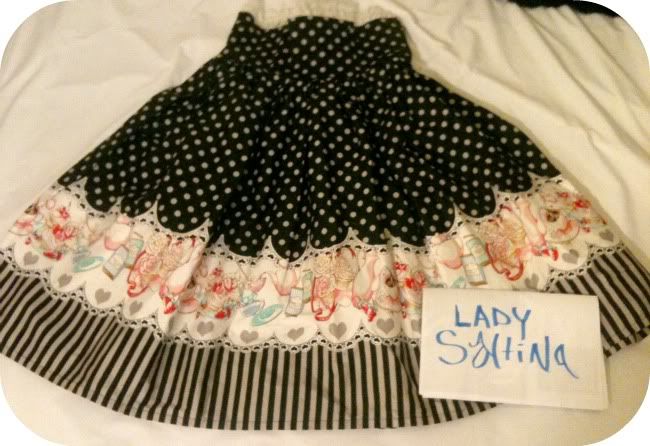 Bodyline Teapot skirt - 30$ Shipped
Waist: 33" max - shirring panel in back
This skirt will come with a large matching detatchable bow. Bow is in storage and not pictured in this photograph. This skirt is super long!!!! Great for tall lolitas, but keep in mind when ordering. Skirt length is 22" not including the waistband.





Metamorphose Twinkle Journey skirt in black - 225$ Shipped
Waist: 29" max
Worn once. I am the original owner. An adorable print, but the cut of the skirt just doesn't suit me. I will include the waist ties and detatchable bows, however the detatchable pearl strand that came with the bows has been lost. If you feel strongly about it, I can make a replacement for you for an extra 5$ (to cover materials, ect).





Swimmer poodle print jersey bloomers - 15$ shipped
Hip: 35" MAX
These bloomers are TINY. Unstretched, the waistband measures 22". They are made of t-shirt like jersey, so they have a lot of give, but I wouldn't recommend them for anyone with a hip measurement larger than 34". I was able to try them on uncomfortably at a hip measurement of 40", but they're meant for someone a lot smaller than me.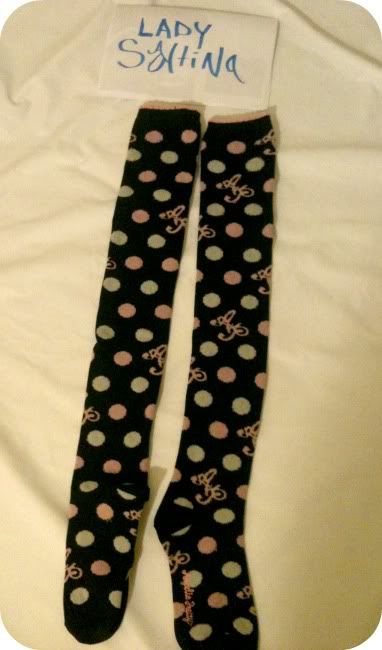 Angelic Pretty socks - 25$ shipped
Worn a few times. Recently cleaned.





Angelic Pretty socks - 25$ Shipped
Worn once. Recently cleaned.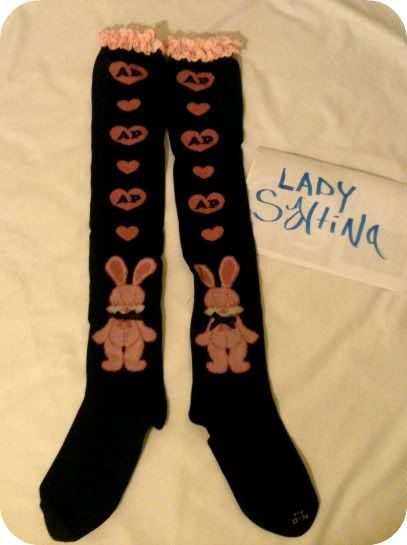 Angelic Pretty socks - 35$ shipped
Brand new without tags, never worn. These match the 2011 Special print lucky packs, but these are actually from the original Lyrical Bunny release. Pristine condition.




Bodyline tea party-esque shoes in Red - 45$ shipped
Size LL / 26 / 8.5-9 US
Not on the website anymore. Worn a few times, decent condition. A few small scuffs near the toes. See the links below for detail shots of minor damage.
http://i930.photobucket.com/albums/ad150/lady_saltina/IMG_0478.jpg
http://i930.photobucket.com/albums/ad150/lady_saltina/IMG_0477.jpg
http://i930.photobucket.com/albums/ad150/lady_saltina/IMG_0476.jpg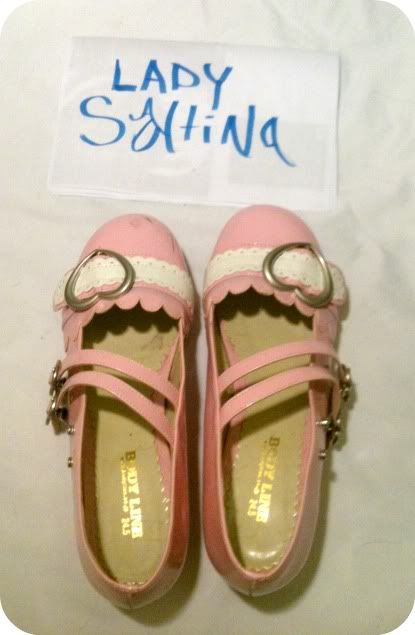 Bodyline Heart Buckle replicas - 40$ Shipped
Size LL / 26 / 8.5-9 US
Worn a few times. These have large black scuffs near the toes that could probably be removed with some cleaning, as well as some wear along the seams. Detail photos of wear below.
http://i930.photobucket.com/albums/ad150/lady_saltina/IMG_0484.jpg
http://i930.photobucket.com/albums/ad150/lady_saltina/IMG_0483.jpg
http://i930.photobucket.com/albums/ad150/lady_saltina/IMG_0482.jpg
http://i930.photobucket.com/albums/ad150/lady_saltina/IMG_0480.jpg
http://i930.photobucket.com/albums/ad150/lady_saltina/IMG_0481.jpg





An-Tai-Na Dress Up Shoe replicas in Sax- 25$ shipped
Size LL / 26 / 8.5-9 US
These are in really poor condition. Worn only a couple times, and patches of faux-leather on the toes are already comming off. If someone has the intiative to fix them, be my guest. Damage is shown in the photos below.
http://i930.photobucket.com/albums/ad150/lady_saltina/IMG_0473.jpg
http://i930.photobucket.com/albums/ad150/lady_saltina/IMG_0474.jpg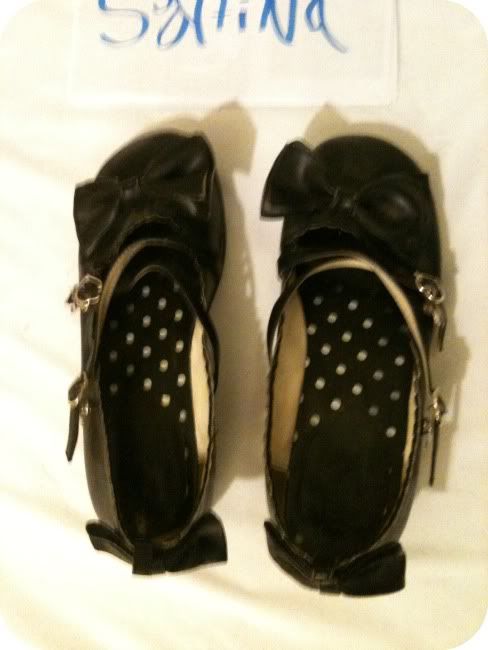 Secret Shop Tea Party replicas in Black - 18$ shipped
Size LL / 26 / 8.5-9 US
Damaged condition! I was going to throw these away, but I figured maybe someone wants a cheap pair that they could get reshodd or for less-shoe friendly lolita activities. In stable condition, except for the soles which need to be repaired. Mods, if these are too beat up to list, let me know! These have been great shoes, and I hate to throw them out if someone could fix them up. Like the other shoes, damage is shown in the photos linked below. Ankle straps are not included.
http://i930.photobucket.com/albums/ad150/lady_saltina/IMG_0486.jpg
http://i930.photobucket.com/albums/ad150/lady_saltina/IMG_0486.jpg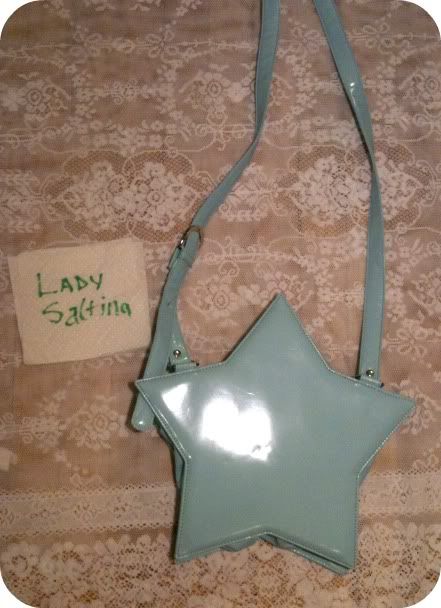 Dream of Lolita Angelic Pretty star bag replica - 25$ shipped
Worn once. Near-new condition.

Enjoy~